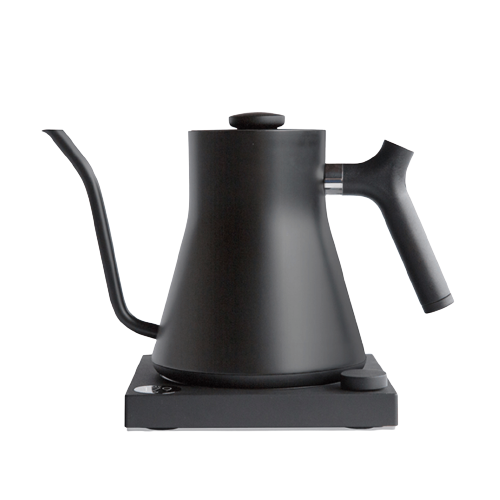 Fellow Stagg EKG Electric Pour-Over Kettle: Matte Black
Product Description
To operate, fill the kettle with water no further than the max fill line, and place it on the base. Set the temperature choosing from C° or F, using the button and LED screen and sit back as your water boils. 
Due to the counter-balance handle, precision spout and ergonomic grip, your pours are more controlled, steadier and refined, allowing you to create coffee to be proud of. As well as this, the built-in stopwatch makes it an all-in-one product for coffee making. 
Should you need to, the kettle has a hold feature that maintains temperature for up to 60 minutes. Upon testing, the time for the water to reach optimum coffee temperature of 91°C starting at 19°C, took 3 minutes and 44 seconds.
Additionally, the 0.9L capacity reduces water wastage as the smaller volume means less chance of over-boiling. 

Included
Stagg Electric Kettle
Plug-in Base
Feature & Brew Guide
Safety & Instruction Guide
Fellow Sticker
Product Features
Brand: Stagg
Material: 304 18/8 stainless steel body and lid, plastic base
Colour: Matte Black
Finish: Polished steel
Boiling Capacity: 0.9L to the max fill line
Highlighted Temperature Range: 57 - 100 C° / 135 - 212 F 
Display: LED Screen
To learn more about how to get the best out of your equipment and Carrara Coffee, visit our Brewing Guide.