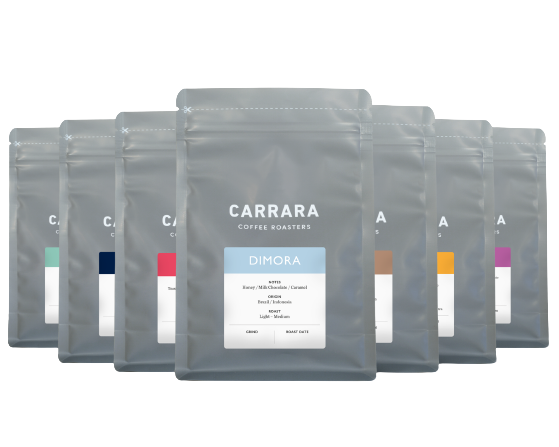 Blend Discovery Subscription COMPETITION WINNER
Coffee Subscription
Roastery Notes
Dimora is our house blend at Carrara which we are extremely proud of. It is a beautifully balanced, versatile coffee that can be brewed using any method.
Notes:
Honey / Milk Chocolate / Caramel


Alba is a rich blend with a syrupy body and has enough sweetness to provide the perfect base for a cappuccino or latte.
Notes:
Peanut Butter / Malt / Toffee Apple


Vivace is our brighter, fresher light roast espresso blend. We have designed this coffee for the modern day espresso. Perfect for the flat white fan. Sweet and vibrant in milk, juicy and bright when enjoyed black.
Notes:
Toasted Pine Nuts / Raisin / Butterscotch


Terreno is a dark roast, full-bodied espresso with a velvety crema. This is a perfect coffee to give you that morning kick, or for the person who simply enjoys a traditional coffee taste.
Notes:
Hazelnut / Dark Cocoa


Tempo is our seasonal filter which can therefore be occasionally subject to a new blend of beans from time to time. This blend is specifically created by our roasters for filter coffees, but will also be enjoyable in different brew methods. If you start your mornings with a Pour-Over or Chemex, or even an Aeropress, this is for you.


Sereno Decaffeinated offers you a taste of an elegant, dark blend, consisting of two washed coffees from Central America. Fleshy fruit notes paired with dark chocolate make for a pleasurable cup, without the caffeine kick! If decaff coffee isn't for you, simply let us know when ordering.
Notes:
Apricot / Nectarine / Dark Chocolate
Coffee Sustainability & Recycling

We are happy to confirm that the packaging we use to deliver coffee to your door in is recyclable - we encourage you to dispose of these responsibly.

Our coffee supply chain operates responsibly in conjunction with the worlds leading green coffee service group - Neumann Kaffee Gruppe. Together they commit to growing a sustainable coffee industry by reaching set objectives. You can read more about where our coffee is sourced and the steps taken to ensure this is responsibly done so.


How do subscriptions work?
Our coffee subscriptions are simple and easy to manage, and are the perfect way to make sure you never run out of your favourite Carrara coffee. To get started, just choose your coffee and delivery frequency. Place your order and you'll receive your first delivery a few days later.
Once your subscription is active, you can log in any time to modify or cancel it. You'll be charged automatically for coffee and delivery each time we deliver to you. If you have any questions just contact us.